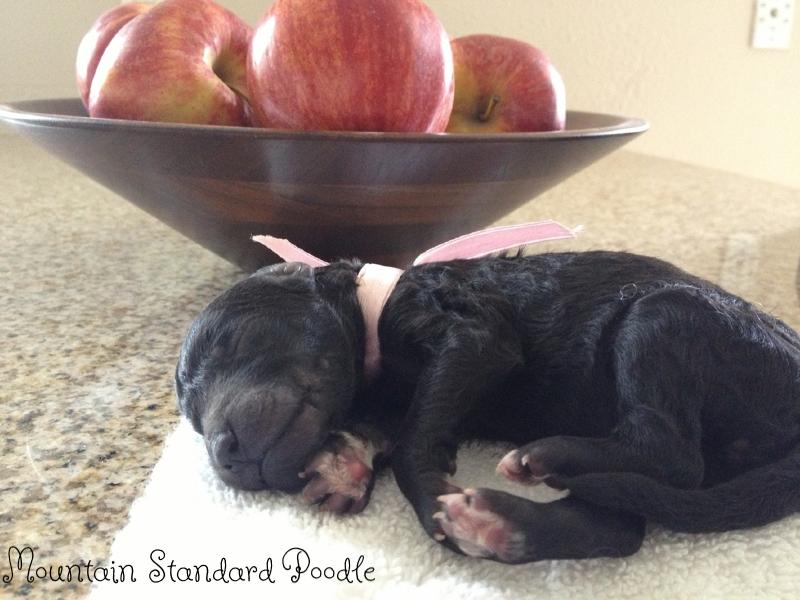 Thank you for visiting Mountain
StandardPoodle.com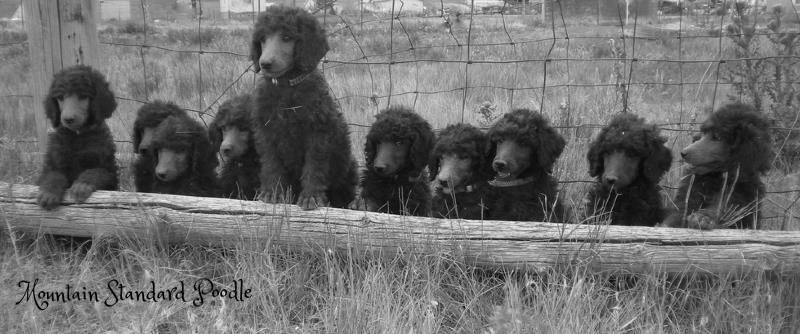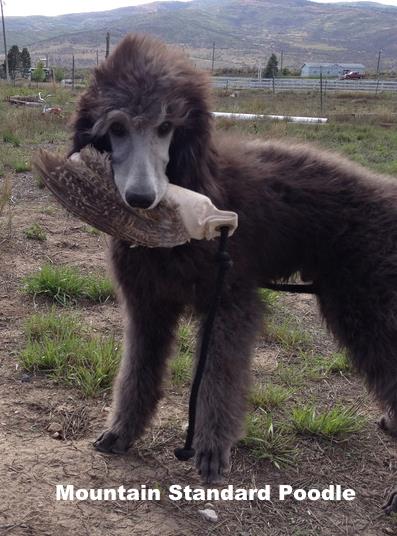 (801) 380-7741


"We are a participant in the Amazon Services LLC Associates Program, an affiliate advertising program designed to provide a means for us to earn fees by linking to Amazon.com and affiliated sites."
We get asked all the time, "We are getting a new puppy! What do we need to buy?!?!" So we have put together a list of some of the things we use for our dogs, both adult and puppies, to help the new puppy owner.



​


Midwest iCrates
are awesome.They have 2 doors and some have a divider to section it off while the pup is still potty training. (See our tips and more page for helpful potty training tips) The 42 inch crate is usually big enough for an adult poodle to still be able to stand in, which is great because adult dogs love to have their own special place when they need down time to nap in or to just relax after playing hard.
The bottom of the crate is hard plastic so it's nice for the dog to have something soft to lay on. A
pet bed
is nice.
Of course you will need

food and water dishes.

We recommend ones that are wider at the bottom than the top. They won't tip over. We always use stainless steel because dogs can't chew it up and they are more sanitary. The ones pictured have rubber so they don't slide while the dog is trying to eat.

**Warning: If you ever leave a food or water dish in a crate with a dog make sure it doesn't have a rubber ring around the base. A bored dog will chew at it and it can cause a choking hazard. On a lot of bowls, the rubber comes off easily and can be put back on if you want later.

**Also, they have a lot of pretty stands to feed your dog. Please avoid the temptation to feed your poodle on one! It was once thought that it reduced the chance of bloat, however, the latest research has shown that it ​​actually does the opposite and increases the risk for bloat.
Doggie pick up bags

are a must when you go out with your dog, most places require you to pick up doggie droppings. Some places will even fine you if you don't. But whether they do or not, it's just common courtesy to clean up after your dog.

Pick up dispensers​​ come in so many shapes and sizes now a days. The ones featured here on the left are scented so, as their website says, "The fresh powder scent will help you forget about what's inside the bag." They are also earth-friendly.




​​

You will need at very least one dog

collar

.

​​Dog collars vary so greatly, making it so much fun to shop for! You can get them personalized with your contact info, or decked out in bling, or even spikes. You can get them that snap close or buckle, in leather or cloth, in every color and design imaginable. I recommend getting a few different ones and seeing what you and your dog like.

Keep in mind that your puppy could grow a lot, so it's usually nice to get one that can grow with her. ​​


​


Don't forget the

dog tag

! ​​​





And, as has become the theme of this page, always, always watch for anything that could become a choking hazard. ​​
Please note: We have not necessarily personally tried all of the brands specifically mentioned in the ads. We either use the item or items very similar to what we have listed, but not necessarily the exact brand. This page is only meant to inform people that have bought puppies from us of items similar to ones we use and we find valuable. We do receive compensation if a purchase is made. However, we can not be held responsible if a product does not work for you.
You will want at least
2 or 3 leashes.
Seems like they always get lost somehow! Leashes come in all shapes and sizes as well. I recommend trying a few different types and lengths and just seeing what you like the best. My husband likes the retractable kind, I like just the old fashioned strip of nylon with a clip, but there are lots of different types so have fun finding the best fit for you and your pet!
Toys

are important for puppies as well as adult dogs. A bored dog is an ornery dog.
​Some of our favorites include ropes, ball and ball chucker, light up balls, laser lights, frisbees, and a variety of chew toys.
We like pretty much everything we have ever tried from

KONG

. Their products seem to hold up against even the most aggressive chewers.

This particular one has a hole where you can put your dogs favorite treat, so he stays busy for a long time trying to get at it.​​
Chew ropes
are a staple in your puppy toy box.
Chuckits

are awesome for getting your dog exercised but not wearing your arm out. It also keeps you from having to touch the slobbery ball!

Be sure to keep several extra

balls

on hand, especially while she is learning to fetch! ​​
This
ball
is so much fun in the late evening. There have been times when we have been playing with the dogs and it gets dark out in the field and all we can see is a glowing ball floating through the air as they are bringing it back to us.
Frisbees
are always fun. Some dogs don't care for them as much as a ball some love them more. See what works best for you and your dog!
When you think of something chasing a light, you probably think of a kitten. We h
ave had some dogs that absolutely
love
chasing a
pointer.
Especially on rainy days, it is a great way to use up some energy inside.
We have tried lots of different types of pooper scoopers. The best we have found is

a pan and a spade

if your dog will mostly be pottying on a hard surface like concrete and

a pan and a rake

if the potty will be in the grass.
​
Especially with a young pup you will want to have
lots
of cleaner
on hand. It is important to get cleaner
with an enzyme
to completely eliminate the odor. If any odor is left the dog will continue to potty in that same spot.
You will want
lots and lots (and lots) of paper towels
while potty training a new puppy.
If your living arrangements allow for it, do yourself a favor and get a

doggie door

. They are so useful.
If your situation doesn't allow for a doggie door,

bells

are a great solution too. The dog quickly learns to ring the bell when she needs out.


If you are not within hearing range of the bells, don't leave the bells where they can become a ​​​choking hazard.
Puppies should never have full unsupervised access to your house until they have proven they will respect your home. It is much easier for a pup to potty in a corner somewhere than go outside.

​​It is also not safe for the puppy. He could chew on cords etc and get hurt or ruin your house in a short amount of time.



​​Temporary gates

are an excellent way to allow your puppy to learn respect as you gradually increase his boundaries to the whole house.
Be sure to get plenty of
extra refill bag​​gies
!
There are so many dog foods out there. We recommend talking with your vet and doing as they recommend.

However, ​​we have had great results with

Nature's Domain dog food

. Some dog foods we have tried give our dogs horrible gas and for those of you that don't know-dog gas is one of the worst smells in the world! We have never had problems with gas or any other issues while feeding our dogs Nature's Domain.
​​
​It comes in Salmon, Turkey and Beef flavors, they also just recently started having a puppy formula with smaller kibbles for smaller mouths!
This
styptic powder
with Benzocaine is great for stopping the nail bleeding if cut too short and helps reduce the risk of infection.
The

slicker brush

and the

grooming comb

are must haves for any poodle owner. They remove tangles, mats, loose hairs and dirt.

​​They also help
tremendously if your dog happens upon a patch of burrs!
Understandably, not everyone wants to groom their dog. It can be a lot of work!
​ However, dogs love to roll and play in whatever the elements provide. So it is usually a good idea to have a few things on hand to be able to give your dog a quick bath or
combing
if the need arises before the next groomers appointment!
Dog shampoos
come in so many scents. Find one that you like!
It's always best to comb their hair while it's wet. If you don't have time to give her a bath you can spritz it with a
conditioner/ detangler.
If you want to do more of your own grooming this is the
clipper
I
use most of the time. It comes with 2 batteries and several different length attachments.
From time to time the
blades
do wear out so it's nice to have extras.
A good pair of

nail clippers

are handy for larger pups and adult dogs.

Don't forget the styptic powder, just in case.​​
A good set of

scissors,

especially

curved shears,

are important to have if doing your own grooming.



​​Keep in mind that, as with most things, you get what you pay for. You will most likely be able to tell the difference between a $5- pair of scissors and a $100- pair of scissors. If you aren't sure if you want to do your own grooming get the cheaper ones and try it out. If you like it then get the higher quality ones later!
As with most of the items listed on this page, you don't have to have it, but they are things we have found to be handy.

If you plan on doing most or all of your own grooming a

dryer

is very useful.

​​This one is handy because it has a rolling stand and you can easily convert it to a hands-free​​ dryer.
A

table

is handy to have if you are going to do your own grooming. I have tried sitting on the floor next to the dog but my back is not happy by the end!

​​This style has a grooming arm and security loop to help your dog hold still, which is especially nice for those delicate places you don't want to mess up on.
'Poodle Clipping and Grooming' is an excellent
book
to help you where ever you may be on your grooming journey.
(801) 380-7741
MountainStandardPoodle@gmail.com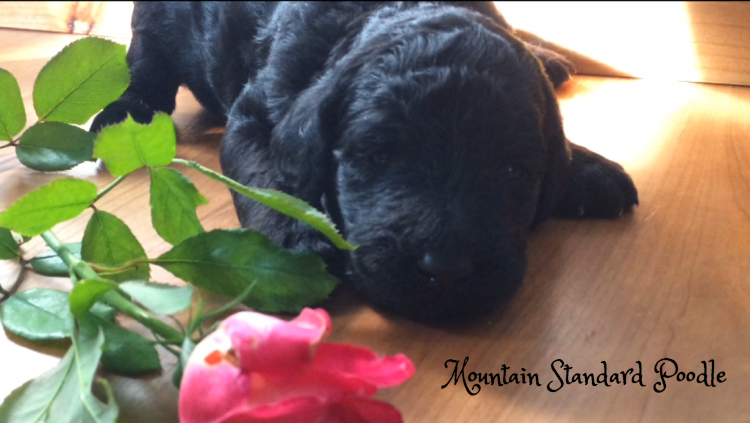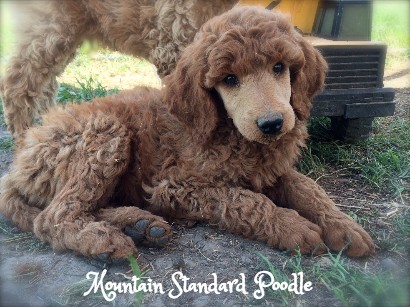 Bullies sticks are awesome! They last longer than most
chew treats
and they help clean teeth and prevent tartar build up.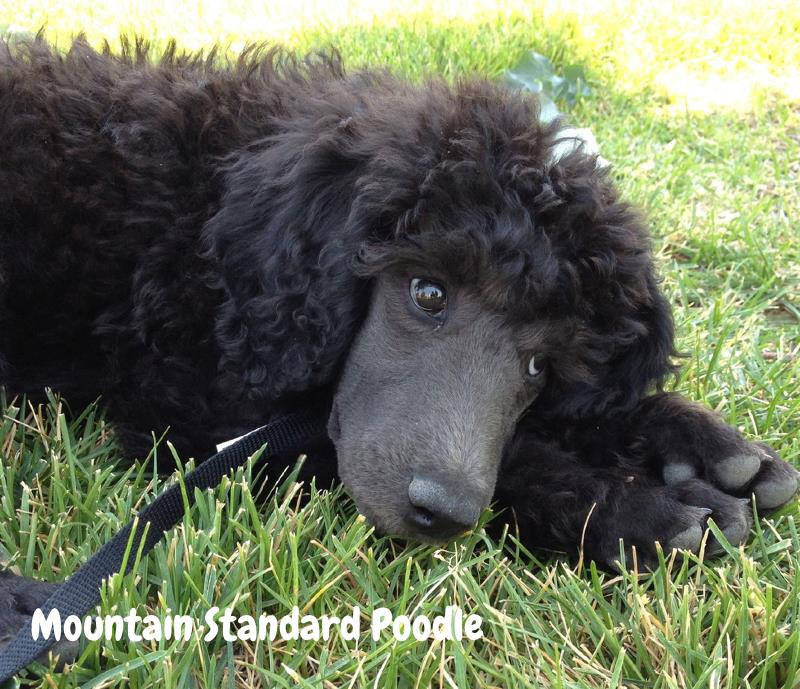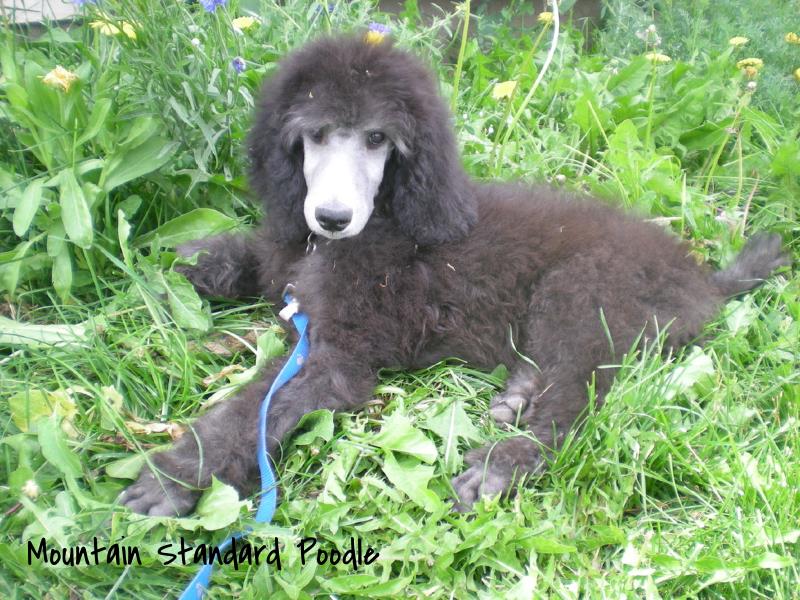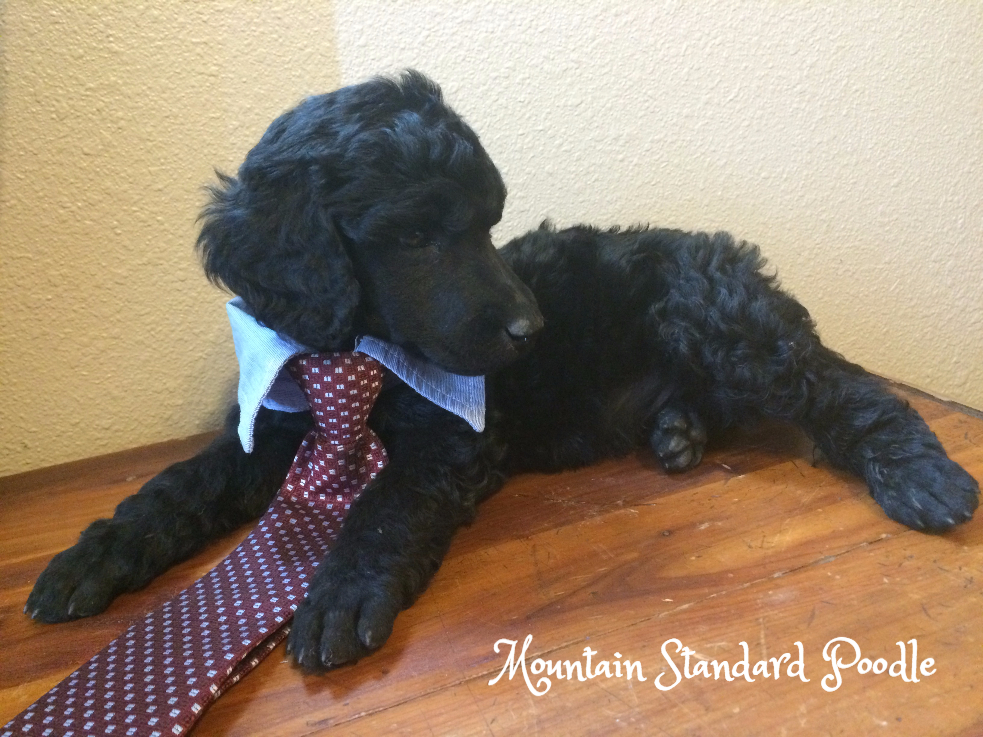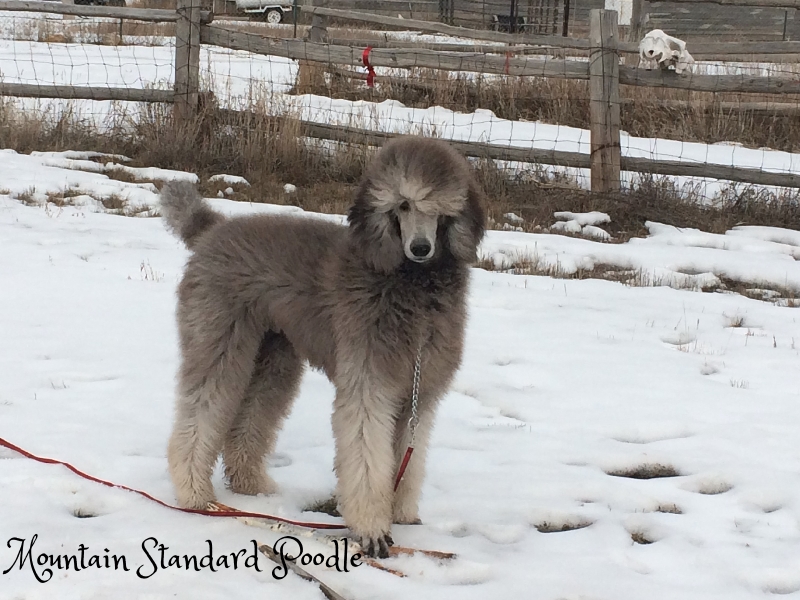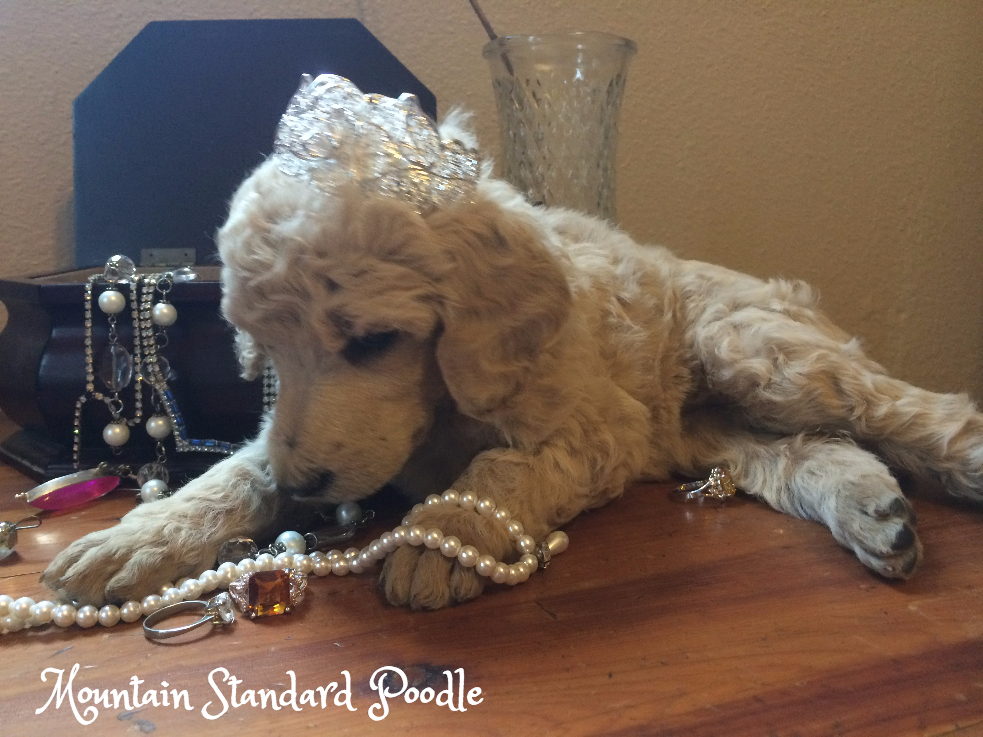 Poodles are amazing dogs. They are one of the smartest breeds out there. Did you know they thrive on being near their people? They don't do well if they are locked outside in the back yard for hours at a time. Help ensure you are giving your dog all the love he needs with these
Poodle books.
I wouldn't use this as their full time bowl but these are handy to have while on the go. Light weight and collapsible!
Blade care

is a must! We use plenty of this. I have tried generic brands but have found a name brand does a better job.
Be sure to check our our new tips and more page for useful information and tips.
Parvo control

-
​I highly
recommend cleaning areas your puppy is in with Trifectant or bleach, regularly. Parvo is a horrible disease that young pups are especially vulnerable to.
Of course you want your pup to learn to potty outside, but while he is learning,
potty pads
are a must!
​
A
potty ​pad holder
is equally important if you don't want your pup to drag the pad all over the house.​